Travelogue, PHUKET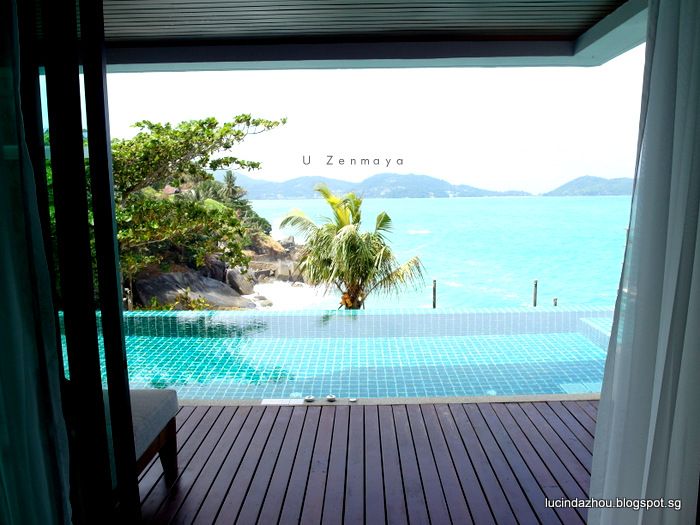 Finally took time to write about my recent Phuket trip!
It wasn't packed with an exciting itinerary, in fact we had none. I guess my idea of an ideal beach vacation
has always been something slowpaced and practically just bumming around, esp since it has been pretty
stressful at work for the boyfriend and I. Received several emails regarding our accommodation and the
trip in general, so hopefully these tips will be helpful to those who intend to head there soon!
Accommodation / Room types
U Zenmaya was a random find on agoda, and I couldn't be happier to have picked it.
This place is PARADISE. Apart from my amazing travel partner hehehe, this resort played a huge part in
making my visit sucha memorable one. The quality of their service, food, rooms, facilities was more than I
expected. Everything was perfect, and I can't wait to be back soon.
Room 1 - Deluxe Seaview, with private pool access.
This was our room for the first night with private access to a pool shared among 3 rooms. We were
quite lucky, cos' our neighbours were out every time we used the pool so we had it all to ourselves.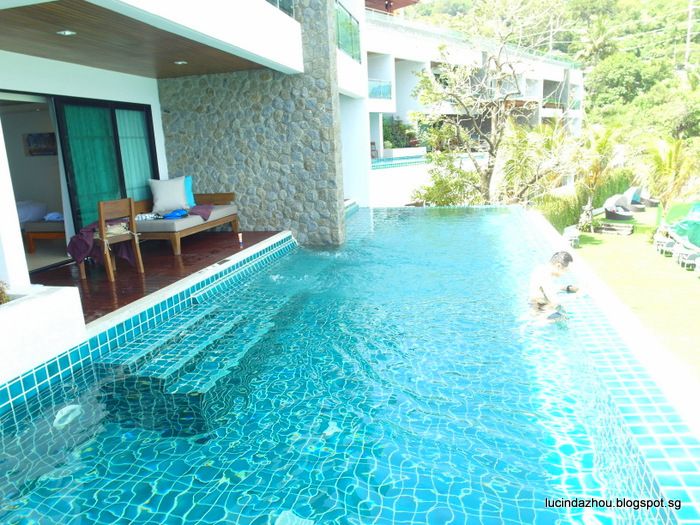 The stunning view of the Andaman Sea, and my favorite part of the room!
Omg I still can't get over this sight, it's even more beautiful in real life.
And we spent the next few hours just chilling and listening to wave after wave hitting the rocks.
I really liked the calmness, seriously nothing else feels quite like it.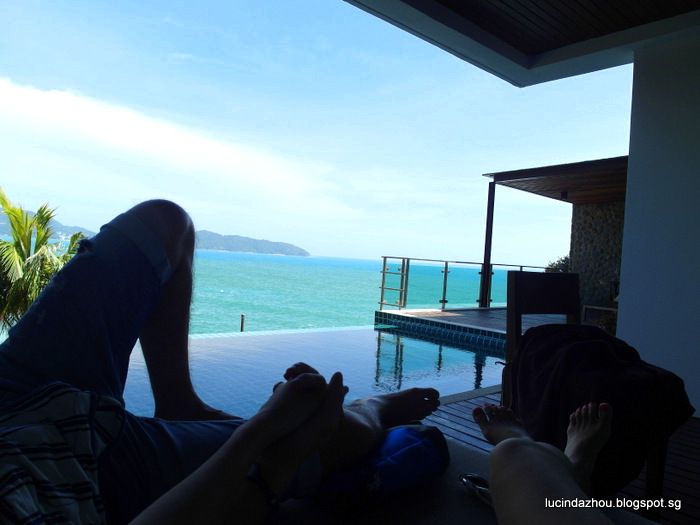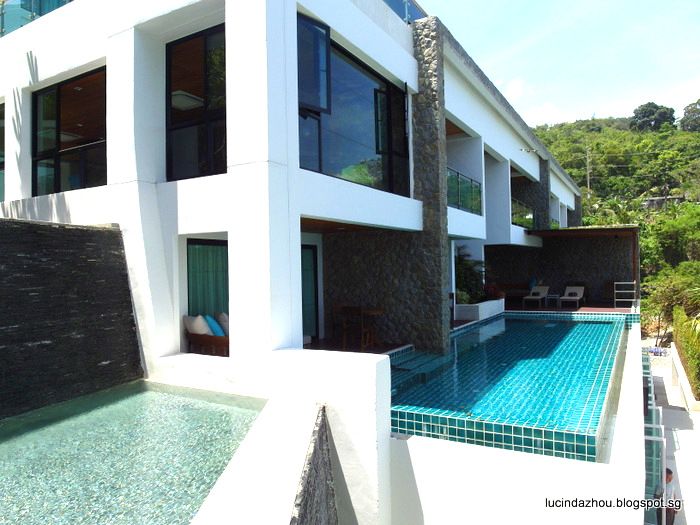 *A tip when choosing the rooms:
Request for a room located at the corner buildings so you get more privacy.
Otherwise, it's hard to avoid stares from the people who use this flight of steps that lead to the gym/spa.
Room 2 - Deluxe Seaview (outdoor jacuzzi)
Our room for the next 2 subsequent nights.
The reason for 2 different rooms - This room (equipped with outdoor jacuzzi) wasn't available for all 3
nights, so I had to book the previous slightly more expensive room (with private pool access and a
complimentary spa) for a night. It turned out to be quite a blessing in disguise, cos' in a way we got the best
of both worlds. Life works in a strange way sometimes, don't you think? :)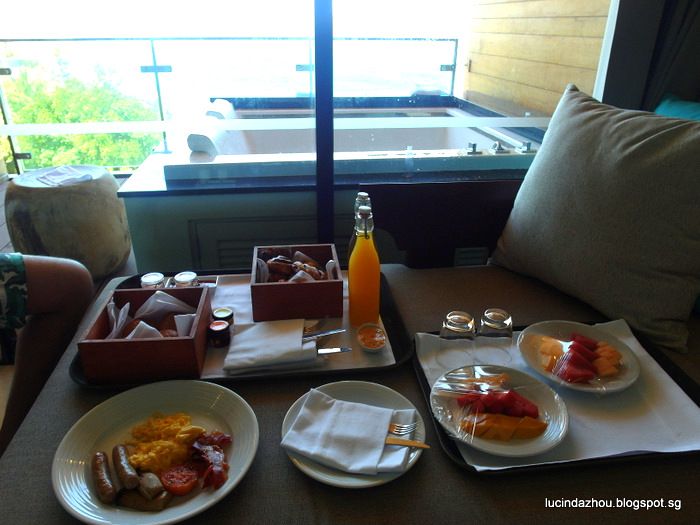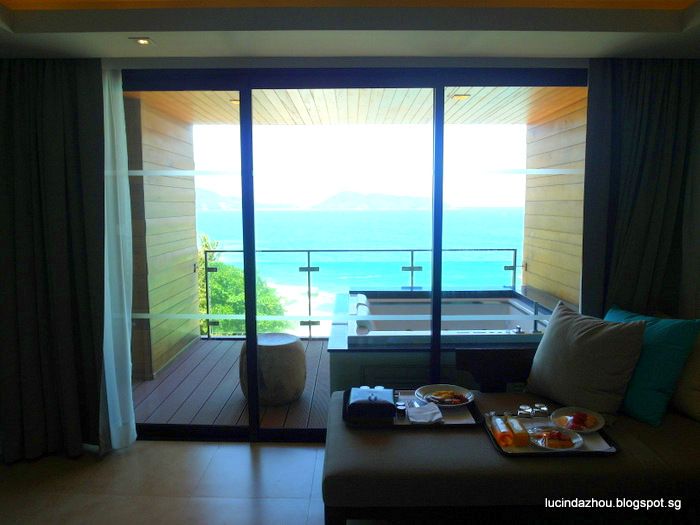 The next day, waking up to this view with breakfast delivered to our room.
Their service is top-notch, you can even request to have breakfast in the comfort of your room.
The spread is so amazingg, and they provided more than we could finish.
So thrilled to find heart-shaped watermelon too!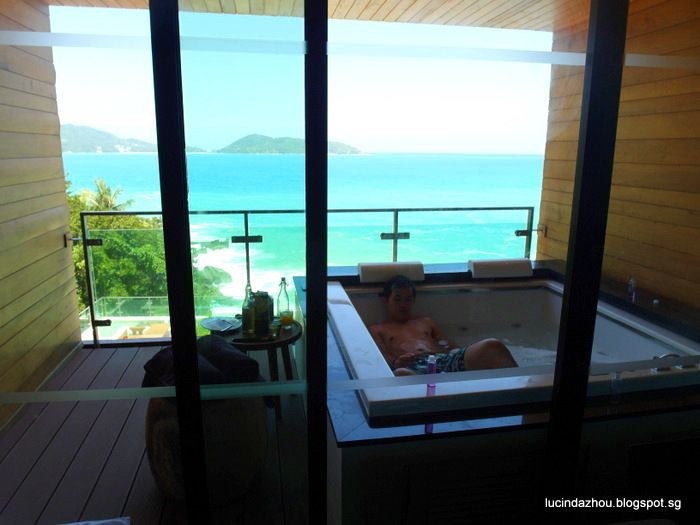 Mx's favorite part of the room, haha.
*Tip: these rooms are located just above the restaurant,
so try to request for higher levels (3rd or 4th) if you'd like more privacy.
Our first meal was spent at the resort's main restaurant.
I have always been skeptical about hotel food, but not anymore.
This restaurant serves amazing food with beautiful presentation, just a lil' on the pricier side.
One of the best Mango sticky rice I ever had, I'm not kidding everything on this plate was soo fresh.
After that, we found out about their meal sets which cost about sgd70 per pax if I remember correctly.
We had it for one lunch and it included a 6-course meal + unlimited drinks (alcohol included) anywhere in
the resort. It was so worth it.
Headed to the infinity pool that overlooks the ocean, where we had one too many drinks
lol cos they were included in the set meals.
It can get pretty taxing on our pockets, if we had all our meals in the resort so off we went to explore the
central Patong area. The tuktuk rides are really expensive as compared to those in BKK, an average of
400baht for a 10-min ride. The resort provides free shuttle service (below) to Jungceylon (huge shopping
area), but only single trips at 2 timings so we didn't have much of a choice.
One of our dinners was settled at Mr Good's Seafood Restaurant.
It was quite expensive, bill came up to sgd100 but we had some really huge grilled prawns which
contributed most to the bill. Otherwise, the price for the rest of the food's pretty decent.
When we were having dinner the previous night, we noticed the never-ending queue at a small eatery
across the road, so we made it a point to visit it the next day! The name's number 6 and i found out it's really
popular among the tourists. They have another outlet up the hill, and it's less crowded I heard.
Food's awesome, and really affordable. Definitely worth a try if you fancy Thai cuisine.
The Patong beach was the nearest to our resort. It was so crowded and quite disappointing overall.
I was expecting clearer waters but it wasn't even close. We spent quite abit of time here, nonetheless.
We also had to pay for the beach chairs at 100baht each (I still can't believe this), and spent on
random stuff like gelato, henna, flower garlands while trying to catch the sunset.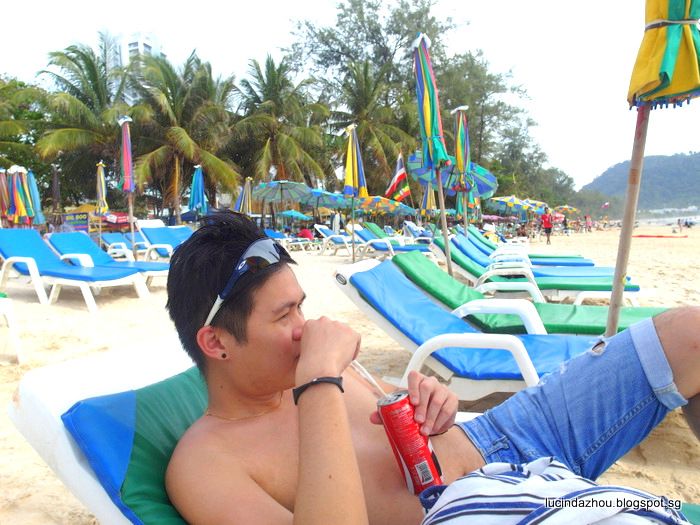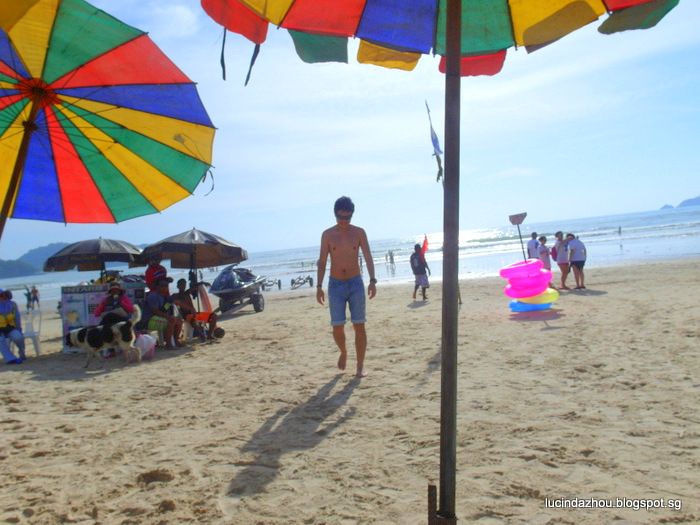 Jungceylon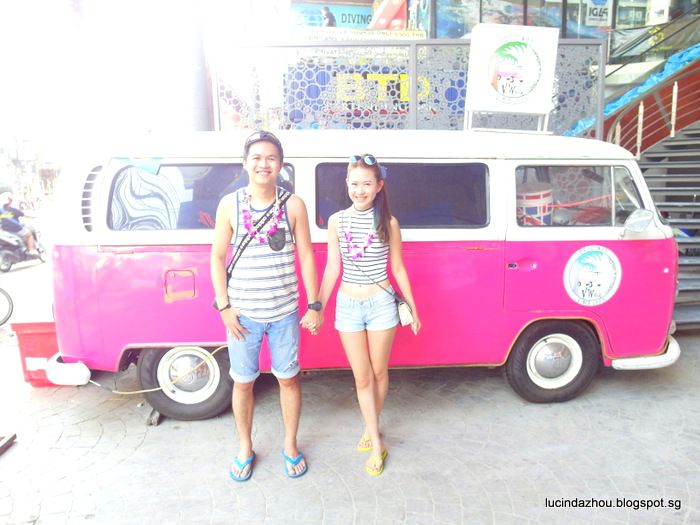 Headed to Jungceylon for dinner + shopping + old school arcade games + bowling.
You can even catch a movie at their premier theaters, if time permits.
Island hopping
We could choose between the Phi Phi Island and James Bond Island tours, but settled for the former
cos' it sounded more exciting. Would love to visit James Bond Island, if I have the chance to in the future.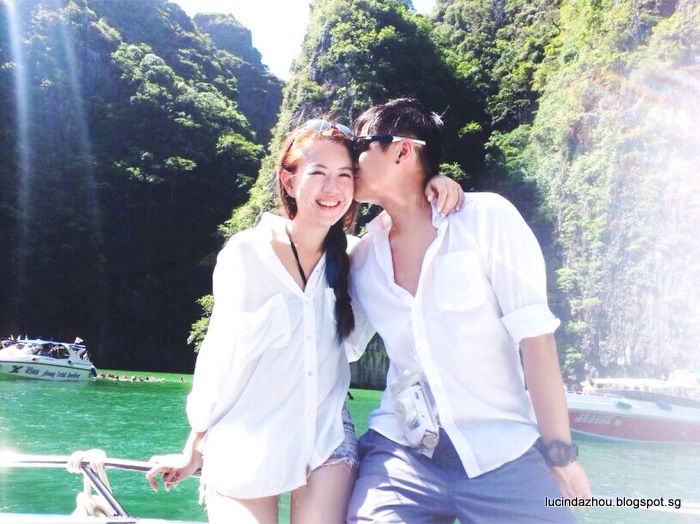 Ending the post with the only island-hopping photo (taken with my mobile phone),
cos my compact camera fell into the water during our first stop at the phi phi Island tour.
Mx and I were quite affected with the death of the camera, because I was really bummed about it for the
next half hour (I wasn't in the mood to do anything) and Mx hates to see me upset. I don't blame Mx for
dropping my camera (haha yes he's the culprit), because the boat ride was very bumpy and he was worried
for my safety so he offered to hold it. His intentions were all kind, and he would never blame me if it
happened the other way round. Sometimes, I react so unreasonably when something crops up. This trait of
mine is not acceptable, and I know I ought to change. Mx is always patient & good-tempered, I really feel
so fortunate to have found him. For this, I'm learning to become a better person/girlfriend in return.
To cut things short...somehow, I managed to knock some sense into my head and we spent the rest of the
day snorkeling, swimming without the usual photo-taking. I guess I enjoyed the whole time even more, just
absorbing every moment we spend together. Maybe everything happened for a reason. Maybe this was a
chance for me to learn about my priorities, and I'm thankful for it.

Just some food for thought, I hope you weren't too bored by what I really felt like sharing.
In anyway, I would highly recommend this tour for those who are visiting for the first time!
The waters were turquoise and super clear, soo amazing.
With that, it concludes my trip to Phuket with the best travel partner I could ever find :)
Ask me anything, and I'll help if I can!